Despite their recent disagreements, Jey Uso and Sami Zayn attempted to work things out before tonight's game against the Brawling Brutes.
However, Jey's behaviour later appeared to have given the Brutes the victory, which led to chaos within the squad.
Jimmy and Solo both appeared upset when Brutes clinched the bout, and thereafter Jimmy and Jey Uso came way too close to having to fight.
Roman Reigns, the Undisputed WWE Universal Champion, made a surprise appearance on SmackDown tonight, but he was not pleased with what he witnessed.
Roman had them wait a little while before entering the ring and took the opportunity to address the crowd.
Roman said, "I oppose broadcasting the backstage in the ring. I think you should handle your business and fight in the ring. I need this thing to be resolved right away, therefore I want you to lay everything out on the table."
Sami Zayn was the first to speak out. The audiences chanted for Sami while he spoke.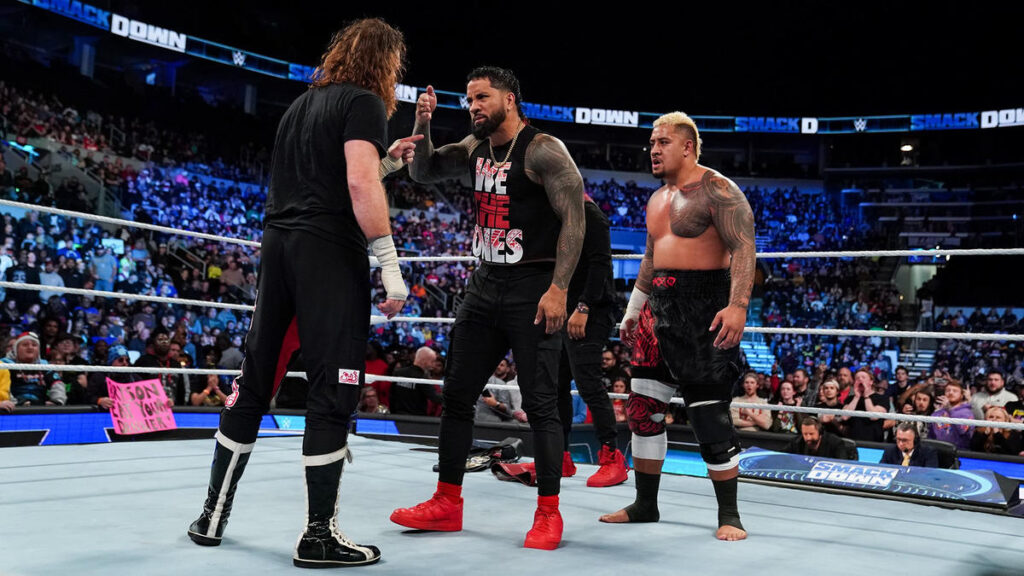 "I'll be the first to confess that communication has recently broken down, and I believe it's only with Jey. I'll be honest: I have no idea what's going on in this case. I started hanging out with the Bloodline, you've become intolerant of me."
"Jimmy is doing nicely. Solo is fine. Whatever I did, I apologise. I simply don't want this to continue. Can we please maintain our composure? Can we finally put the past behind us?" Sami stated.
Jey Uso hesitated to shake Sami's hand before picking up the microphone. "You have about two seconds, Sami, to get that out of my face. I'm not a fan of you. Your hair bothers me. Your face annoys me."
"You're wearing a shirt that I don't like. He shouldn't be around my family every week, in my opinion. If you don't have blood, how do you think you belong to the Bloodline? Newsflash Uce. No one here likes you. You are a fake a** Uce."
Sami Zayn asked "Why are you shouting at me. I am looking for peace. The tribal chief said…" But Jey Uso interrupted him, adding, "I don't give a damn what the tribal chief says."
Jey turned around and faced Roman, who had a stunned expression on his face. Sami Zayn intervened when Reigns moved closer to Jey Uso.
Roman warned Jey that he would make Sami a total part of Bloodline. Sami would no longer be Honorary Uce and would be renamed to Sami Uso. Paul Heyman closed the segment at this moment.
Get all the Pro Wrestling updates, news and rumours on our Facebook page. Media Credits : WWE / Fox Sports