Dr. Britt Baker Owns Saraya : Former WWE superstar Paige now known as Saraya in AEW debuted for the Tony Khan owned company last week. She surprised the fans as well as the AEW superstars present in the arena.
Paige addressed the crowd this week on AEW Dynamite where she appeared to take a jibe at WWE for not fully utilising the talent.
Saraya fka Paige said that she would bring change to AEW's women's division and called the women's locker room into the ring.
A team of Babyface Women's Superstars, led by AEW Women's Champion Tony Storm, arrived at Saraya's call. Saraya made a shocking statement after the female wrestlers entered the ring.
Saraya takes a dig at WWE for not utilising the talent.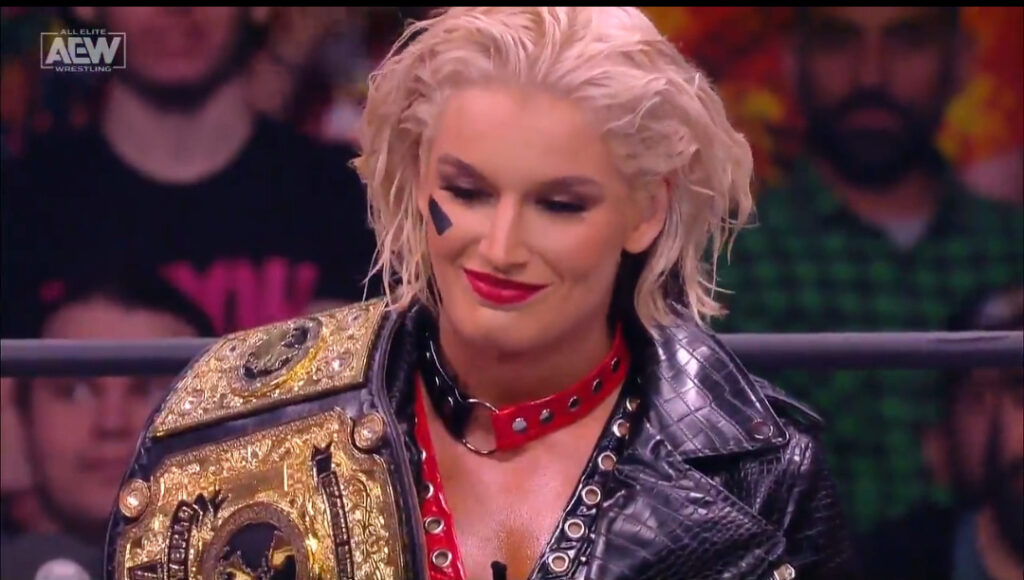 Praising Toni Storm, Saraya said :
"This lady has finally been utilised at her full potential. She is a fighting champion and she is the best champion AEW has seen."
Paige probably took a shot at WWE where she felt Toni Storm was underutilised. Before she could proceed further, Dr. Britt Baker intervened the segment.
Dr. Britt Baker roasts Saraya
Seemingly unpleased by Saraya calling Toni the best champion AEW has ever seen, Dr. Britt Baker came out and questioned whether Saraya even watched AEW shows.
She said,
"I am not sure if you watch our show or not, but I am the base of this women's division. I have literally put my blood, sweat and tears into this company."
Accompanied by Penelope Ford, Jamie Hayter and Rebel, Britt Baker took a sly dig at Paige's neck injury, when she said :
"Infact, I have put my neck on the line for All Elite Wrestling and unlike yours mine is actually strong enough to handle it. You know, this is your house, right ? you have such a big impact, half of the people in this room don't know how to say your name."
View this post on Instagram
Saraya takes a subtle jibe at Triple H
Saraya replied to Britt Baker but that looked lame. Later, she announced a lumberjack match between Tony Storm and Serena Deeb. She took a subtle jibe at Triple H during the announcement.
Paige said-
"I talked to Tony Khan backstage. It's great to have a boss who listens to you. We've decided that we'll make this match for the Interim Women's Championship a lumberjack match."
Although Saraya did not reveal any details about her future role in AEW, it looks like she could be seen playing a key role in the management of the women's division.
It will be interesting to see what the future holds for former WWE star Saraya in AEW and whether she will make her in-ring return in the company.
Get all the Pro Wrestling updates, news and rumours on our Facebook page. Media Credits : AEW / TNT