WWE has announced the Undisputed Universal Championship match between Roman Reigns and Logan Paul at Crown Jewel 2022.
This match in was announced by Triple H in Las Vegas. Roman Reigns and Logan Paul have tried creating a lot of hype for the match, but the fans are not at all happy with the decision.
It was clearly visible on Twitter, where fans vented their anger. WWE received a lot of flake for booking this match.
Some fans had the problem that Logan Paul gets such a big match so soon, while many hardworking and talented wrestlers like Bobby Roode and Doplh Ziggler have lost relevance and become more of jobbers.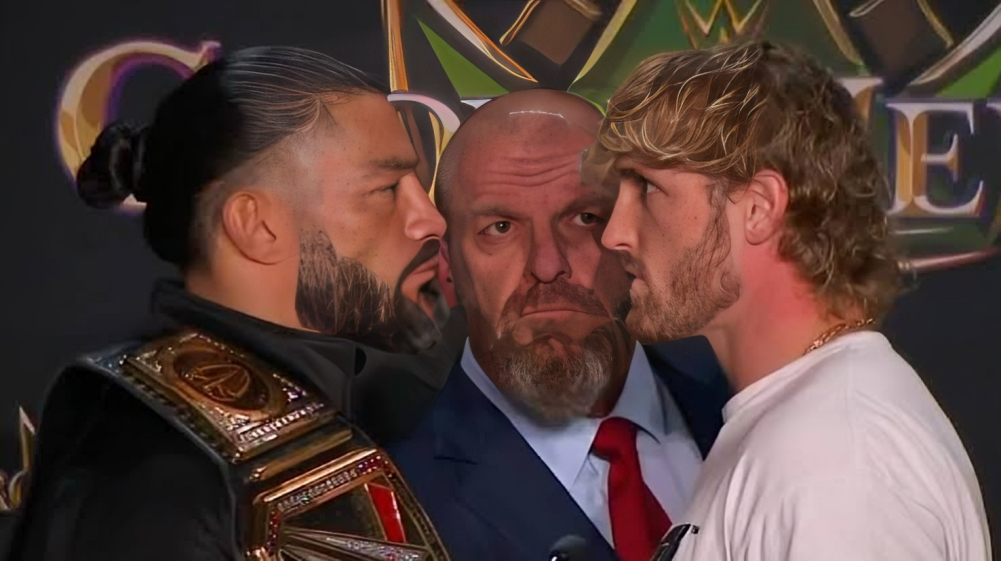 A section of fans was complaining that WWE was lowering its standards by featuring celebs from non-wrestling backgrounds like Logan Paul in big matches.
At the same time, some feel that by putting such mediocre opponents in front of Roman Reigns, WWE was dragging his title run unnecessarily.
Let us have a look at some of the reactions :
A fan feels Roman's title run is a way too long.
Pointless announcement. We all know the title is not changing at this event. Triple H and the Lame WWE writers love having boring stale Roman as champion for 10 million years.

— Matt (@MATTinthe916) September 17, 2022
Another fan slams WWE for ignoring the hard work of the wrestlers in the locker room, and giving huge opportunities to a wanna be WWE superstar.
Wow he got it like that🤣? That easy? Some people have worked their ass off for the title shot and haven't come close.

It will be a good match for sure and I'm happy for him but this soon?

— Blessed Bobby | LN4 | LFC | ◢ ◤ (@BlessedBobby_) September 17, 2022
A Twitter user took a jibe at WWE for screwing the loyal wrestlers and giving an undeserving Logan Paul a title shot. He called Triple H Vince McMahon 2.0.
Logan has done nothing to earn that opportunity. Yet again someone on the roster is getting screwed. Vince McMahon 2.0 has struck again.

— Taven Wolfpac (@TavenWolfpac) September 17, 2022
Another fan questioned the need for the match to be a championship match, when it's certain that Roman will not lose to Paul.
Why even put the belts on the line when there's absolutely zero chance Roman drops the belts to Logan Paul lmao what has Logan Paul done in kayfabe to deserve a title shot anyways… weird business decision IMO

— TwoPumpStump (@Stump94408138) September 17, 2022
A person named B Walker said that it was Triple H's first bad decision. Logan Paul has only fought two matches and should not be in the main event of the PPV. It paints a bad picture of the company because a superstar who doesn't have professional experience is fighting for the world championship.
This is HHH's first bad decision.
The guys had 2 matches, he shouldn't be main eventing a PPV card. That's insane. Makes the company look bad that a kid that has no prior experience can challenge for their world championship.
Awful booking decision

— B Walker (@Bwalker1393) September 17, 2022
In any case, the match has been announced and we have to wait for the further build-up to see how it goes. Logan is all but certain to lose, but it would be interesting to see how he fares in the wrestling ring.
Get all the Pro Wrestling updates, news and rumours on our Facebook page. Media Credits : WWE Network / FOX Sports